I've seen the glorious pictures of frontyard edible landscaping, and it makes me starry eyed.
Unfortunately, I figured this was a california thing...
until I saw this article
http://boingboing.net/2010/09/01/gardner-fighting-vil.html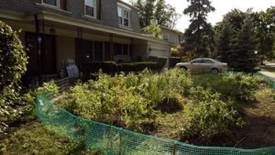 An elderly grandma has involuntarily become the poster child of front yard gardening movement in Chicagoland! That's awesome :) Northbrook was my old stomping grounds. Infamously known for nosy neighbors and uptight richie riches. Not to mention the scandalous video of the Glenbrook North High school Poms team hazing...
Well, that settles it! I'm going to work with a local landscaping company to figure out how I can make an edible yet aesthetically pleasing frontyard!! This dream must be accomplished or it will be doomed to the benchwarming seats of mediocrity!
I also have a couple more ideas for this coming Spring. I have been searching high and low for coop plans and either the coops are too ugly, too bulky, or way too complicated for someone like me
who doesn't know how to build. I found this awesome site:
http://greengardengirl.wordpress.com/2009/06/12/how-to-convert-an-old-dog-house-into-a-chicken-coop/
YES! Finally, some easy instructions.


2011 will be an interesting year indeed. :Evil cackle: